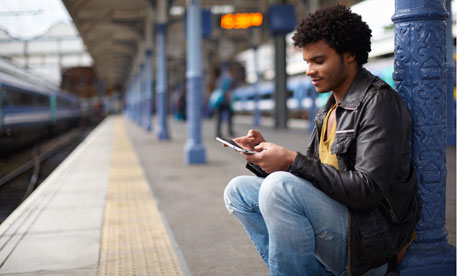 Course materials can be downloaded on to mobile devices and accessed by students wherever they are. Photograph: Mike Harrington/Lifesize
Students on the University of Leicester's new distance learning MSc in security, conflict and international development face more challenges than the average distance learner. For example, some students might spend weeks with no access to an internet connection, working in a refugee camp in post-conflict countries. How does the university make sure these remote students have everything they needed to carry out their studies?
"When you're doing that sort of thing, you can't be carrying huge folders of printed material," says Prof Adrian Beck, head of the university's department of criminology. "It struck us that we needed to find a way for them to transport our materials that is highly flexible but low-weight, and gives them access to all the material they will need while on the go."
The solution was to give every student on the course a free iPad, on to which they could download a bespoke app and all the course materials. Despite concerns from the university about security and technical support, the plan has gone smoothly. A few months into the MSc, no iPads have been lost or stolen and students have responded with enthusiasm.
Read the rest of this article...